We have done the work for you. Unlock the knowledge.
Request a Demo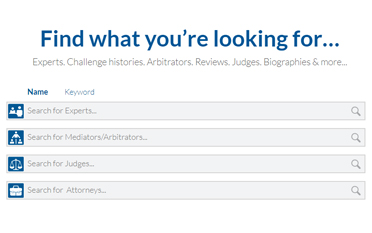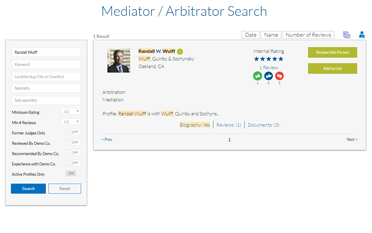 Mediator | Arbitrator Directory
Courtroom Insight's directory contains over 39,000 profiles of practicing mediators and arbitrators. Directory profiles are enhanced with professional biographies and performance evaluations.
PROFILES:
39,699
BIOGRAPHIES:
5,842
REVIEWS:
28,565
Individuals are classified according to services provided and legal specialty.
Services:
Arbitration
Discovery Master
Early Neutral Evaluation
Mediation
Mini-Trial
Omsbud-Investigation
Specialties:
Antitrust and Unfair Competition
Bankruptcy
Business and Commercial
Civil Rights
Class Actions and Mass Torts
Construction and Engineering
Consumer Complaints
Employment and Workplace
Forensic Service:
Family Law
Government and Public Agency
Insurance Claims
Intellectual Property
International Law
Personal Injury, Deaths & Torts
Professional Liability
Real Estate
Securities
Law Firms / Legal Organizations
Law firms and legal organizations access all of the information contained in Courtroom Insight's preloaded arbitrator directory plus benefit from additional customizations that are only available to the firm's users:
Internal research and biographical information
Private performance reviews
List of confirmed attorney relationships with each neutral
Pinned internal documents
Learn more about Courtroom Insight's custom Knowledge Management Solution
Individual Users
Individual users may register for an account to claim their profile, submit public performance reviews and access information contained in Courtroom Insight's arbitrator directory. Learn more about Courtroom Insight's Public Site for Individual Users.
Learn More about Individual Accounts
Request a Demo