Experts: Share
your expertise.
Learn more
Purchase
Expert Witness Profiles
Courtroom Insight is the leading expert witness platform available today with over 506,000 expert witness profiles available in our expert witness directory. Attorneys, insurance professionals and other legal service providers use Courtroom Insight on a daily basis to manage their expert witness needs.
Experts prefer to list with Courtroom Insight because the platform offers:
1 .
The ability to upload a CV, professional credentials, published articles and other self-reported information that is presented directly to potential clients including leading law firms and insurance carriers.
2 .
No commission or service fee charged for successful placements since clients contact consulting and testifying experts directly
Attorneys use Courtroom Insight for expert witness research because the platform offers the most comprehensive expert witness directory with reliable data often provided directly by the experts. The powerful search engine captures important keywords and testimonial experiences from expert biographies and uploaded CVs to assist with targeted expert recommendations.
A premium profile gains exposure to:
87,892 Courtroom Insight users, including:
75,538
Verified attorneys
and judges
671
Unique law firms and
insurance carriers
30%
Of the AmLaw 100 firms
20,000
Members Of DRI - The
Voice of the Defense Bar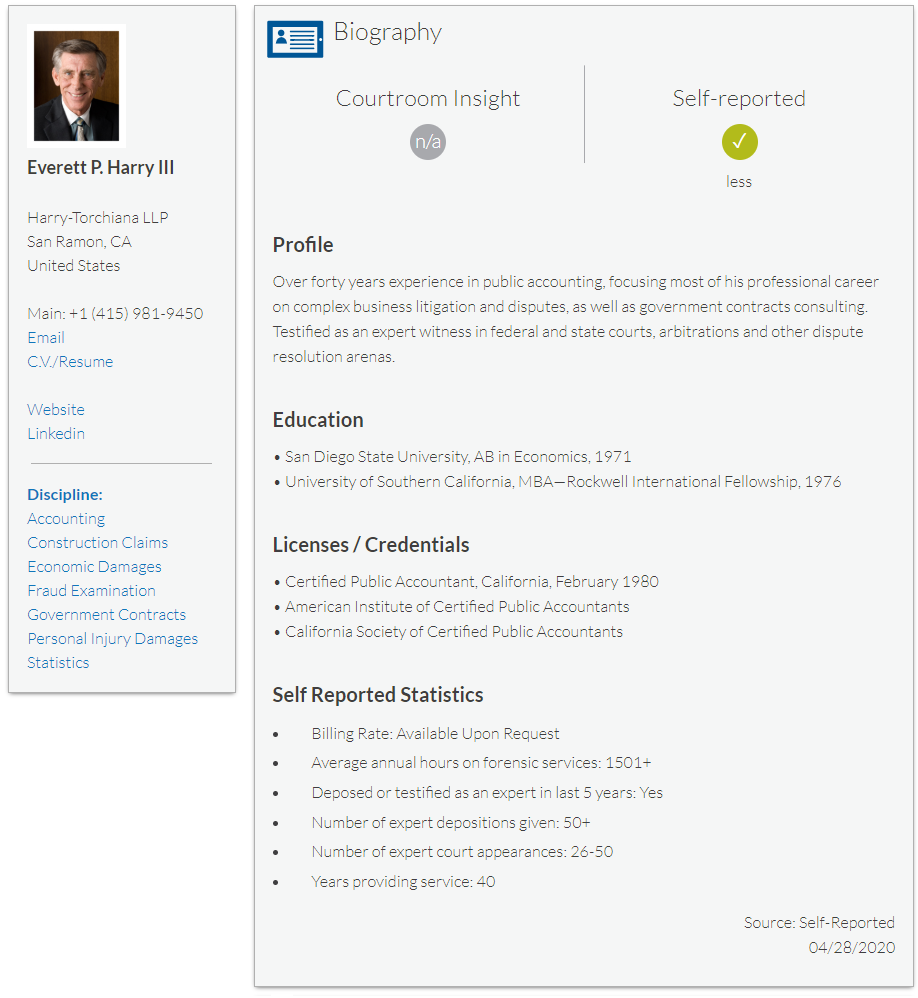 Photo
Preferred contact information (so attorneys can contact you directly)
Direct links to website and LinkedIn profile
Self-Reported professional credentials (give examples: education, license, etc)
Post relevant documents (CVs, articles, etc.)
Includes professional biographies on LexisNexis and FastCase at no additional charge
* Share your testimonial history to improve your chances of being identified by attorneys looking for specific prior experiences
Price: $299 per year
Uploading a premium profile on Courtroom Insight is the most cost-effective way to gain access to tens of thousands of hiring attorneys and insurance professionals. There is no better way to put your information directly in front of clients looking for experts like you.
Please Contact Us to learn about the benefits of signing up your entire expert witness organization.

Purchase